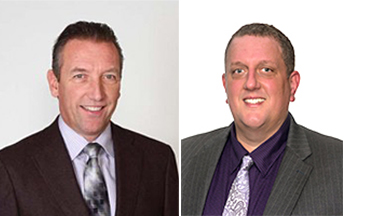 COMPANY FOUNDERS
Valley-Wide Financial Group founders, Darren Bowman and Scott Findlay, bring a combined 40 years' experience in the Financial Services Industry. Within those 40 years they have built up a strong team that extends from Vancouver Island to Saskatchewan. Part of the vision of the Group is to look at your finances as a whole and build a plan based on your needs and life style not on a current trend. Each plan is tailor made with your needs in mind.

Through their collaboration and shared idea that managing your finances is more than just your RRSP and TFSA contributions, they set out to not only help you save those funds but to protect and grow them.

Out of the concern to make sure that when life happens you are covered, the partners branched out into the field of General Insurance opening a number of Insurance companies in BC and Alberta. From home and auto, life and commercial, Valley- Wide Insurance, in BC, and Prairie-Wide Insurance, in AB, offers competitive rates and agents that are well trained to assist you.

Part of VWFG vision is to come along side the business community and provide great group benefit packages to help businesses take care of their teams as well. From a large company to a mom and pop operation there is a plan to suit your needs.

No matter if you are a business owner or a growing family, one thing never changes and that is taxes. Part of the Valley-Wide Financial Group is our Tax Team who is available to prepare your taxes any time of the year and take advantage of the tax saving opportunities that are continually changing.

All parts of the Valley-Wide Financial Group was strategically placed with the client in mind and the desire to help you save, protect and grow.